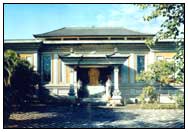 The Rudana Museum was established in 1995, with the main aim of providing an outstanding collection of paintings for the public to study and enjoy. Its presence must also be considered as complementing the existing total of fine art museums, which are much needed in order to improve the community's level in the appreciation of the arts. Collections of artwork and the social history of the nation, which the future younger generations can inherit, are preserved in this Museum.

The invaluable collections are intrinsically a historical inheritance, which becomes a source of information and educational media. These are all most important for the development and transformation of culture and civilization from one generation to the next. This museum is also intended for artists and people of interest in this area to gather. Here they can exchange experiences and ideas on their respective fields of interest.

The Collection was established through the purchase by Nyoman Rudana and Ni Wayan Olastini, who have exhibited tremendous dedication in their twenty-one years of work promoting Indonesian, especially Balinese, arts and artists.

The three floors of the Museum represent Balinese architectural philosophical concept of the Tri Angga, namely, the three parts of the human body: head, trunk, and legs. This concept, in the development of plastic art, represents the golden link of artists of the past and the present. The third floor of the Museum houses works of Balinese fine arts from classical to the Ubud and Batuan styles. Among the works in this collection are such outstanding names as I Gusti Nyoman Lempad and Ida Bagus Made.



On the second and first floors, works of modern Indonesian fine arts are displayed, covering such widely-known names as: Affandi, Gunarsa, Wianta, and also the works of young and talented artists, such as Boyke Aditya, Nyoman Erawan, and Made Budhiana. The Museum also has a great collection from renowned expatriates such as Antonio Blanco who have made Bali their physical and artistic home.




ARTISTS PROFILE
---------------------
DULLAH
Born in Solo in 1919. Dullah is a student of Affandi and S. Sudjojono, was once the Presidential Palace under Sukarno. He is also well-known as an educator and a freedom fighter during the Indonesian revolution. In 1950 he was one of the founders of the Himpunan Budaya Surakarta (Surakarta Cultural Association). His letter founded at he Sanggar Pajeng (Pajeng Studio) in Bali at 1970's.
H. WIDAYAT
Born in Kutoardjo, Central Java in 1923. He was a student of Indonesian Academy of Fine Arts (ASRI). Widayat also studied ceramic and landscaping in Nagoya, Japan. In 1952 he set up the Sanggar Pelukis Indonesia Muda (Young Indonesian Painters Studio). He has taught at the Indonesian Art Institute at Yogyakarta for several decades. He received the Public of Indonesian Art Award in 1972 and ASEAN Art Award in 1993.
I KETUT BUDIANA
Born in Padangtegal, Ubud in 1950. He began painting in 1970 and supported by the founder of artist community inUbud. His background of education at the Indonesia Fine Art College from 1969 to 1971. In 1972 Budhiana became an art teacher at the Secondary School of Fine Art in Denpasar and Ubud. In 1980 he founded at Ratna Wartha Art Foundation which has been organizing the annual exhibitions at the Puri Lukisan Art Museum in Ubud. He is the general chairman of the RWA foundation. As a "Sangging" or Traditional Master Artist, Budiana also creates sacred art for religious use. These include temple and rituals articles, statue or deities, sacred masks and object uses in cremation. There are many his works in Museum Puri Lukisan, The Neka Museum, The Art Center in Denpasar, The Museum Rudana and The National Fukuaka (Japan), in addition to there are many collectors from part of the world.
I MADE WIRADANA
The past can never disappear from human consciousness. It will always effect human culture whether scientifically, mystically, religiously or artistically. Made Wiradana meditates on the prehistoric consciousness in his paintings. Born in Denpasar on 27 October 1968, he is aware that "Prehistory has a tremendous Niskala (unseen) power, as well as having its own particular beauty". Wiradana is a graduated of ISI Yogyakarta and has participated in exhibitions since 1989. He had a successful solo exhibition in Yogyakarta in November 1999. Wiradana often uses animals as his subject matter. The distorted shapes of these creatures present their own unique beauty and are typical of his works.
I GUSTI KETUT KOBOT
Born in Pengosekan village in Ubud in 1917. He started to painting the wayang (puppet) from Tjokorda Oka Gambir in Puri Agung Peliatan, and members of Pita Maha under the guidance of the famous artists Rudolf Bonet and Walter Spies. His works depict traditional stories of Ramayana and Mahabharata epic.
I NYOMAN SUMANTRA
Born in Pengosekan village, Mas, Ubud in 1972 in apprenticeship with I Gusti Ketut Kobot (members of Pita Maha). His paintings depict traditional stories of Wayang Stories.
IDA BAGUS MADE NADERA
Born in Tegallinggah village, Gianyar in 1910 and in his village responsible as local priest. Self-taught traditional painting since early age. Nadera is a member of Pita Maha under the guidance of the famous artists Rudolf Bonet and Walter Spies. Many of his paintings went to collectors all over the world. He won't be able to live without his painting.
MADE BUDHIANA
Born in Denpasar in 1959, he is graduated of ISI Yogyakarta. Budhiana has twice won prestigious Pratisara Affandi Adhikarya art award in 1985 and 1986. Life is an abstraction of line, colour, movement, spontaneity and unpredictability. With this conviction Made Budhiana, as an artist, is free to wherever he likes. He has been exploring the world of arts for decades and continues to produces work of instance imagination. "There is a basic conflict between desire and reality. As the climax of this conflict is felling of restriction, my spirit rebels, and than when I paint, I experience a calmness within my soul." His style is completely unpredictable, sometimes he may leave little of spaces untouched, and sometimes he will come up with a pieces that, although sparsely composed, is altogether captivating, reflecting great strength of spirit in its divine lines. Budhiana is a painter who has let his imagination run wild, he can readily capture whatever is around him at any given moment. He doesn't need to wait a certain time of a day, or to be in certain spaces to paint. For Budhiana, beauty shows itself at all time and all spaces. That it is why it is not uncommon for him to paint in busy places with lots of people milling around, such as the market, on the beach, on the street of the city or in the temple. "I respond to all kinds of situations and that is part of my creative process, which is king of theatrical in nature", says Budhiana.
NGURAH ARYA ARNAWA
He was born in Denpasar on March 22 1950. His work explore and extend the boundaries of traditional Balinese cultural, in an artistic quest for new possibilities. His work often includes traditional subject matter such as shadow puppets. He has exhibited in Berlin, Singapore, Japan, Kuwait and Darwin, Australia.
P.N WARDHANA
Born in Singaraja, Bali in 1933. Started oil painting since childhood (14 years old). In 16 years old Wardhana joint the exhibition in Denpasar with well-known artists as R. Bonet, Theo Meier, Cok Raka Payangan and Th. Koop (1949). The painting of Wardhana has the complexity of double exposed photograph. One the image appears to impose one another. The forms are seen through colored prisms, which fragment several moments at a time, than slot them together into one. Wardhana delves into the mysterious, surreal world of dreaming and the ideas starts deep within himself, growing through his mind until it finally takes form on his canvas.
S. TOYO
Soetoyo (S.Toyo) is self-taught personality, born in Blitar, East Java, Indonesia. To past by process of direct associate with the world and territory. Since childhood like to draw as a hobby with a paint a shadow play with leather puppets. World of the Wayang stories has many good philosophies. About 1947, S. Toyo begin learning the people sketch hero faces, namely: Pangeran Diponogoro, Raden Sentot, Kyai Modjo, Soekarno (First President), Hatta (Vice President), Jenderal Sudirman, etc. S. Toyo is admirer masters of Indonesia as Raden Saleh, Basuki Abdullah, Affandi, Dullah and S. Soedjojono. Also the best foreign artists as Rembrandt, Goya, Rubens, Leonardo da Vinci and Van Goh. The collectors of S. Toyo works are Museum Rudana and Rudana Fine Art Gallery, The Siloam Gleneagles Hospital-Lippo Art Fondation.
Exhibitions:
One Man Show at Gallery Dewan Kesenian Surakarta (1983), One Man Show at Balai Surabaya Post, East Java (1989), One Man Show at Gallery Dewan Kesenian Surakarta (1990), One Man Show at Komala Gallery Ubud, Bali (1992), Indonesia Puppet Fine Art Gallery Show at Mangga Bhakti Building, Jakarta (1993), One Man Show at RM Beringin Asri, Malang, East Java (1994), Group exhibition at President Palace, Tampaksiring, Bali under Rudana Fine Art Gallery, Exhibition at Bali Cliff Resort, Nusa Dua under Rudana Fine Art Gallery (1996).
Email : info@museumrudana.com