The 3rd Kemang Street Festival 2003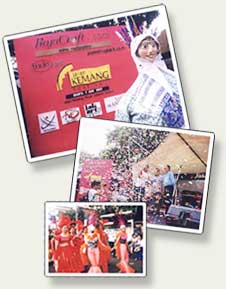 Jakarta, June 7 2003 - Rajacraft.com, Indo.com's business unit focused on an online arts and craft marketplace, once again successfully ran Kemang Street Festival on June 7, 2003.
This year's Kemang Street Festival is the third held to celebrate Jakarta's 476th anniversary. The festival received full support from the JakArt@2003, the South Jakarta administration and Kemang community.

The Betawi wedding procession kicked off the one-day festival at 9 a.m. and was followed by a series of arts shows organized by JakART@2003. The festival ended at 9 p.m.
As many as 250 vendors from small-and-medium sized enterprises took part in the festival, displaying assorted kinds of arts and crafts products, such as wooden statues, masks, bags, cloths and jewelries. Around 300,000 enthusiastic people, including local community and expatriates, turned out to the festival. At around 7 a.m., the visitors started to throng the one-and-half-kilometer-festival area starting from Mc. Donald Cross Road to SPBU on Jl. Raya Kemang.
Officially opened by the South Jakarta's chapter of tourism agency at 9 a.m., the festival presented an array of arts and cultural attractions, including traditional Betawi drama 'Lenong', 'Marawis' musical performance and traditional Javanese dance Reog Ponorogo. A parade featuring children wearing various traditional outfits and street fashion show also cheered up the festival.
Kemang is becoming an increasingly important area in South Jakarta. Recognized for its arts and craft center in town, Kemang has become an expatriate residential area. Therefore, with the existing concept "Kemang Modern Kampong" and the annual Kemang Street Festival, the area is expected to be more attractive and make Jakarta more popular among international community.
If you want to be KSF 2003 participant, please call: Dian / Helen at +62 21 766 6364, or email (dian@indo.com)